Student Intern begins cataloguing project
Louise Crompton, a third year undergraduate in the School of History and Archaeology, has commenced an internship with the Stephen Colclough Centre and the Bangor University Library. Louise will be contributing to the Centre's blog, sharing some of the finds from the collections held in the University Library Research Reserve and Rare Book Collection. Here's what Louise had to say on starting the project: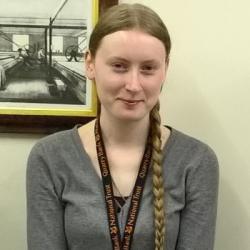 Louise Crompton, 2017 Student Intern
I am honoured to be contributing to the early stages of research at the newly established Stephen Colclough Centre for the History and Culture of the Book. Over the coming weeks, I will be assisting the Centre's directors to research, catalogue, and digitise texts relating to the medieval and early modern periods held in the library collections. As an undergraduate reading Medieval and Early Modern History, with the intent to progress on to postgraduate study in Archives and Records Management, I will be applying my subject knowledge and cataloguing skills to this exciting project. My interests lie mainly in seventeenth century history and literature; my dissertation is focused on the cult of Charles I in the reigns of Charles II and James II. This looks at the enduring impact of the king's book, the 'Eikon Basilike', biographies of Charles I, sermons, and histories of the Civil Wars, to assess how the cult was utilised and adapted by the later Stuart kings during the many political crises of their reigns. I have worked and volunteered in the heritage sector for many years, and I am committed to promoting access to, and engagement with, historic collections. No doubt there will be some interesting finds ahead – I look forward to sharing these in my blogs.
Publication date: 30 May 2017