Robbers in London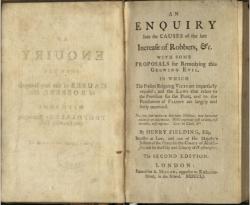 An enquiry into the causes of the late increase of robbers, & c.
An enquiry into the causes of the late increase of robbers, & c., with some proposals for remedying this growing evil. In which the present reigning vices are impartially exposed; and the laws that relate to the provision for the poor, and to the punishment of felons are largely and freely examined.
Henry Fielding 1707-1754.
London, Printed for A. Millar
Archives General Rare Book HV6665.G7 F58
As London's Chief magistrate serving at the Bow Street Office, Westminster from 1748 to 1754, Henry Fielding had a bird's eye view of the rise in crime in his community. He believed that the disintegration in public morals principally influenced by gin drinking, gambling and prostitution, and the reluctance of the poor to find regular employment was the prime cause of crime. Fielding wrote many political pamphlets on the subject reflecting a 'moral panic' felt by the ruling classes in Britain at the time. Field believed that the demobilization of 80,000 soldiers and sailors unable to support themselves after the War of Austrian Succession had led to a crime wave.
Fielding was noted for his impartial judgements, his incorruptibility and his compassion for the poor. Fielding advocated for judicial reform as in abolishing public hangings, even though he sentenced criminals to hang himself, and improving prison conditions He used his influence and authority as a magistrate to establish the Bow Street Runners London's first Metropolitain police force in 1749. As a renowned dramatist and author, his most famous book "The History of Tom Jones, a foundling" was also published in that year.
Publication date: 29 June 2020