Pennant Tours Internship: Daisy Wrightson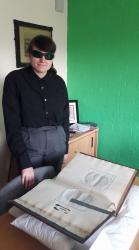 Daisy Wrightson, InternDaisy Wrightson is a BA Music Undergraduate at Bangor University who has just started on a 4 week internship with the Library and Archives Service. She will be working on a pilot digitisation project centred on the extra-illustrated volumes of "A Tour in Wales" by Thomas Pennant. These rare volumes record the journey made by Pennant through Wales between 1773 and 1776.
Week 1
I am half way through my first week working on the internship and have already made some progress. I have always been fascinated by history and archival techniques but was a bit intimidated when I first got to see the 4 volumes of Pennant's Tours.
Over the next few weeks I will be looking into the people behind the artwork and engravings in the volumes as so little is known about the original artists, engravers, copyist and colourist.
Some of the illustrations from the volumes have been photographed already, with no information linking them to the volumes. Therefore the first task was to link the digitised images to the volumes and recording the page numbers of the plates and their relative position compared to an alternative edition (produced for the "mass-market") which is a 2 volume print edition of "A tour in Wales". All the data that I have gathered is recorded in a spreadsheet.
It will take some time for me to establish where all the digitised images belong, before I move on to the next step of the project – uploading the images onto eprints
Publication date: 13 July 2017