Pat Kelly and the Pinnacle Club
Article by Dr Hazel Pierce, Associate Member
Highways and Byways in North Wales by A. G. Bradley (published 1898), is one of the antiquarian books gifted to the University by the Pinnacle Club. This gift compliments two other collections: the Climbing Club Collection and the archive of Dr Anthony Stewart Gervais Jones which have also been donated to the University.
However, what makes this edition of Highways and Byways in North Wales of particular interest is the handwritten inscription on the front page:
To The Pinnacle Club
For Pat (HMK)
1936
This inscription relates to Emily Kelly, or Pat as she was known to everyone, the founder of the Pinnacle Club and has been written by her husband: Harry Mills Kelly (HMK).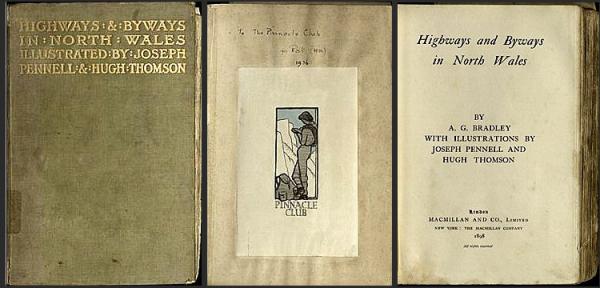 Pat and Harry were keen climbers. Pat was described by her husband as 'one of the most experienced climbers in Great Britain' while Harry was referred to as 'the pioneer of Lakeland rock climbs'. In 1920 Pat decided to found a climbing club for women and it was named The Pinnacle Club. The inaugural meeting took place at the Pen y Gwyryd Hotel, Snowdonia.
On Monday 24 April 1922, during the Easter climbing meet, three groups including Pat's husband were climbing 'Wrinkled Slabs' on the West Face of Tryfan. Pat, who had felt unwell that morning, had decided not to climb but came along later to see how things were going. Whilst walking down 'the steep grassy gully' she apparently rested her hand on a rock to steady herself when it gave way pitching her a few feet before she rolled a further 150 feet over grass and stones. She was found unconscious having sustained severe head injuries and one boot was missing which no-one could find. A stretcher was brought up and she was taken to the Caernarvonshire and Anglesey (C&A) Hospital (current site of Morrisons Supermarket, Upper Bangor).
Despite her injuries, she rallied the next day and was able to answer questions. However on Tuesday she began to deteriorate, experiencing facial paralysis before becoming 'more comatose.' She died on Wednesday 26 April 1922; her husband was at her bedside.
Her friends and colleagues were shocked not 'only by her death, but by the fact that she had had an accident at all.' However, Shirley Angell gives an explanation for the fatal accident in her book Pinnacle Club A History of Women Climbing, an explanation that remained hidden for nearly sixty years.
Six months after the accident, four of Pat's friends discovered her boot whilst climbing in the same area:
'The shoe told the climbers the whole story. One of the men had given Mrs Kelly some new nails to try out. They were of a different pattern and she was using them for the first time that day. One of these had caught in the rock on her descent and she had been thrown off balance with such force that her foot had been dragged from the shoe and she had fallen headlong.
The party buried the shoe nearby and vowed to each other that they would never mention the matter so long as it could cause distress to Harry Kelly or to the friend who had given the nails'.
Gabriel Eden-Smith, Pat's friend and recording secretary of the Pinnacle Club, wrote on 30 April 1922 that the Pinnacle Club 'must be kept going. It is up to us all now to make the club the success Mrs Kelly always hoped & longed for it to be. It was the biggest interest in her life & it would be just a waste of all that work, enthusiasm & pluck of hers for us to let it go down now.'
Fortunately, this has been honoured. The Pinnacle Club continues and the Club Cottage in Nant Gwynant is called the Emily Kelly Hut in memory of Pat.
Fourteen years after her tragic death her husband, Harry Kelly, donated this book to the Pinnacle Club in her memory; a book that the University proudly holds today.
Carnarvon and Denbigh Herald and Merioneth News Friday, April 28, 1922.
Publication date: 1 March 2018