From Venice to Bala: The Journey of a Hebrew Bible
Some items that we discover in Bangor's collections are steeped in mystery and just waiting for an interested individual to come along and investigate. One such item is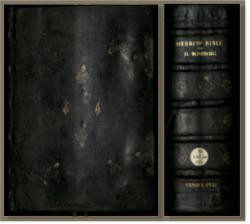 Daniel Bomberg's Hebrew Bible dated 1521. This 496 year old book written in Hebrew has all the traits of a particularly interesting research project.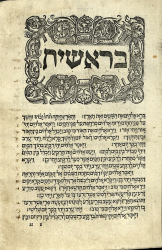 Page of the Hebrew Bible
It was printed in Venice by a Christian from Antwerp
The relationship between the Venetian Republic and the Jews which leads to the establishing of the first Jewish ghetto in the parish of Saint Jerome, Venice, in 1516
The bookmark which identifies it as once owned by Coleg Bala Bangor. Bala-Bangor was a theological seminary belonging to the Welsh Independents which closed in 1989
The marginalia, inscriptions, and annotations written in at least three different languages
The accompanying letter dated 1921 by Mr R. W. Jones, noting some of the latest provenance of the book, citing the recent donor as Mr W. Edwards, of Tabor Hall, Valley, and that the book was donated to Bala Bangor by Syr R. J. Thomas Garreglwyd.
A second accompanying letter states that the book once belonged to a Mr Lloyd from Bala a great friend of Mr Charles (Thomas Charles one of the most famous men in Welsh history, active in the Sunday School Movement and in establishing the British and Foreign Bible Society)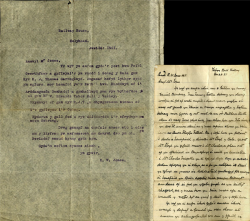 Accompanying lettersAll these clues need an inspired individual to conduct rigorous research in order to solve the mystery of this important book. If you feel that you may be that individual, please do get in touch.
Shan Robinson, Special Collections Officer
Email: shan.robinson@bangor.ac.uk
Publication date: 17 October 2017