Bearing a message from Lancaster.
To quote Pennant: "I now return to the subjects that occasioned this digression; and to give some account…" --- of what has been happening on the project.
I've been digitizing the pictures from the first volume of Pennant's Tours in Wales, after finishing cataloguing the existing images.
Reading the book in detail to establish context for the images is a fascinating journey through the early industrial age, with stories of diverted rivers and lead works, and "recent" rebuilding of churches and Roman discoveries. It also offers historic tales of local interest.
One of the images that challenged and interested me was the copies in the book of images from an earlier illuminated manuscript of Richard II disguised as a monk during the troubles with the Earl of Lancaster.
The original is in the British Library, (Harley 1319, f. 37v, Richard II and the Duke of Northumberland)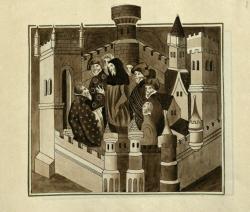 Pennant's Tours in Wales: Harley 1319, f. 37v, Richard II and the Duke of Northumberland

The image depicts Richard II and the Duke of Northumberland, bearing a message from Lancaster.
Pennant tells this story over several pages in his book, because of its association with Flint Castle. In 1399 Richard II of England was held by Henry Bolingbroke at Flint. Pennant quotes Sir John Bouchier's account of a meeting between King Richard and the Earl of Lancaster, at the castle, when the king's faithful greyhound, Mathe, betrays his master by licking the hand of his bitter rival the Earl of Lancaster. (Later Henry IV) This gesture of betrayal demonstrated that the dog was faithful to the crown, and not the man.
The challenge in identifying the source of the image was the lack of any reference by Pennant as to where it was from. Reading the previous entry before he launched into the story, I initially believed that the images had come from tapestries at the castle. However, after a fruitless search for any tapestries of Flint castle that matched; I looked further, searching by using the terms Richard II and Flint Castle, and came across the picture from the British library. Going to the source, I then found that all of the pictures Pennant had used to illustrate this story were from the same manuscript. Victory!
I'm looking forward to finishing the digitisation of the first volume and seeing what new wonders await.
Daisy W.
Publication date: 7 August 2017