A Treatyse of Fysshynge with an Angle
A Treatyse of Fysshynge with an Angle.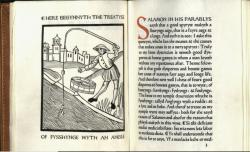 A Treatyse of Fysshynge with an Angle
One of 150 copies, on vellum, published by ASHENDENE PRESS 1903
By Dame Juliana Berners
This is a twentieth century exact reproduction of a much earlier work found in the Booke of St Albans c1496. Dame Juliana. Berners was a noblewoman and prioress of the Sopwell Nunnery near St. Albans during the late 15th century. She was the first author to write about the sport of fishing and established a moral value to the craft. The illustrations are believed to be the first ever depicting fishing with a hook and eye.
The book which belongs to the Owen Pritchard Collection is particularly attractive printed on vellum (calf skin) with a decorative leather binding. It is one of only 150 copies ever made. It was printed and published by the Ashendene Press, a small private press founded by Charles St John Hornby, a family run business. It operated from 1895 to 1915 in Chelsea revived for a short time after the war and ran from 1920 until its final closure in 1935. Hornby began his printing career right at the end of William Morris's Kelmscott Press and as such the Ashendene Press is part of the Special Press movement an offshoot to the Arts and Crafts movement prevalent at the start of the twentieth century.
Publication date: 20 October 2020